Severe Tire Damage Band Members
Russ Haines

Guitar and Vocals
Good: Skydiver, Scuba, Snow skier, Author. Bad: Cadaver allograft ACL, Slacker. Quote: "Enjoy us loudly with your friends."
Mark Manasse

Bass and Vocals
Good: Inline Skater, Solved F9, Invented Millicent. Bad: Has MS, Factors large prime numbers. Quote: "We *are* the hype."
Steve Rubin

Vocals
Good: Private Pilot, Taught woodshop at summer camp. Bad: Two knee meniscotomies and counting. Quote: Regarding Severe Tire Damage: "Now I know why I became a Computer Scientist."
Mark Weiser

Drums
Good: Mediagenic. Bad: Dead. Quote: "Verbs? Uhhh... 'Green.'"
Lance Berc

Fog and Imaging
Good: Snow Skier, Competition Sailor, Road/Mt Biker. Bad: Ruptured Achilles tendon, Two major heart attacks. Quote: "Will three fog machines be enough?"
Brad Horak

Effects and Networks
Good: Snow Skier, Scuba diver, Motorcyclist, N6BDE. Bad: Frequent Mountain Dew Hangover. Quote: "I've got enough microwave links to broadcast from the beach."
Berry Kercheval

Audio and Hacks
Good: Author, Bassist of TBFKAT (The Band Formerly Known As Trogus). Bad: British car enthusiast. Quote: "Yes, I am wearing earplugs. What's your point?"
---
Severe Tire Damage Friends
Hania Gajewska: band manager emeritus, not affected by fog.
Ken Beckman: founding member; drums, live audio engineering.
Anna Karlin (of Anna's All-Girl Band): founding member; guitar and vocals.
Amy Lansky (of Not Dead Yet): vocals.
Dexter Kozen (of Harmful If Swallowed): guitar, composer.
Ethan Robertson: sax and keyboards.
Bruce Donald (of Harmfulf Swallowed): guitar.
Daniel Scharstein (of Harmful If Swallowed): keyboards and drums.
Paul "Shag" Walmsley: remote operator.
---
Our Logo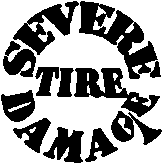 Click here for PostScript.
Click here for a flying logo movie.


Click here for PostScript.
---
Contact Us
Severe Tire Damage loves talking with almost anyone about almost anything. If you've got a technical, musical, or ethical question, you've come to the right place. Although Severe Tire Damage may not have the right answer, it'll sound like the right answer, and that's what really counts, isn't it?
(You don't even need a reason to send mail to Severe Tire Damage)
Or, be more specific:
Drums or questions about rocks: (drummer@std.org)
Bass-ic questions and game theory: (bass@std.org)
Guitars and philosophy: guitar@std.org)
Voice and conspiracy theory: (vocals@std.org)
Managing Musicians and Gourmet Cooking: (manager@std.org)
Stage Lighting and Radioactive Waste: (effects@std.org)
Obfuscation and Network Design: (fogmachine@std.org)
Not Necessarily Asynchronous Live Audio: (sound@std.org)
Music theory and Hardware: (studio@std.org)
These webpages: (webmaster@std.org)
Technical support: (techsupport@std.org)
The STD Public Relations Machine and Free T-Shirts: (publicity@std.org)
Planaria and Sales: (sales@std.org)