Official Severe Tire Damage T-Shirts
There was a time when we had t-shirts, conveniently ready in time for early christmas shopping. These "Hanes Beefy Ts" came in any size, so long as it was Large or Extra Large; and any color, so long as it was Slate, Navy, Maroon, Purple, or Black.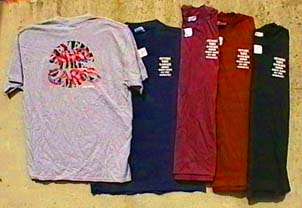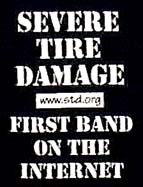 A great conversation starter and tubercular phlegm collector. While wearing the shirt, band members were stopped on the street by passersby who recognized Severe Tire Damage as "first band on the Internet", without necessarily recognizing the person wearing it... If the wearer's response is, "Severe Tire Damage SUCKS!" --it was probably a band member.