THE OFFICIAL SEVERE TIRE DAMAGE TATTOO
Die-hard fans could accentuate their favorite body part with this keen Severe Tire Damage tattoo. They became trendy and hip with the purchase of this item (a truly sad commentary on the 90s).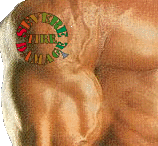 Click on the guy's picture to see what it looked like on a woman.
Although the official Severe Tire Damage tattoo is removable, Severe Tire Damage offered to contribute five dollars towards any permanent application of a Severe Tire Damage tattoo. This offer was void for Lemmy and children under twelve.