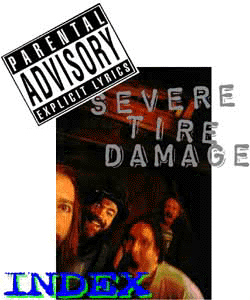 SEVERE TIRE DAMAGE
HOUSE BAND OF THE INTERNET
STD NOW EVEN LOUDER

The first drummer flew his hang glider into a mountain and died. Another was "recalled" to South Africa. One has an incurable disease. The last one died of gastric cancer. STD is betting this one spontaneously combusts. Read more exciting STD NEWS.
FIRST BAND ON THE 'NET

In June 1993 STD became the first band to broadcast live video and audio worldwide on the Internet. To demonstrate that technology can be both loud and annoying, STD broadcasts weekly. CHECK IT OUT.


LISTEN TO MUSIC

Music can't hurt you. Usually. Unless it's from STD. Or your name is Karin Ann Phillips. Now it's even easier to get STD at home or the office. GIVE IT A LISTEN.
HISTORY

Severe Tire Damage has TV appearances and press clipping ranging from a front page cover photo in The San Jose Mercury to a feature in a five hour series for Korean TV. CHECK IT OUT.
BUY STUFF

STD has it all -condoms, matches, and CDs- the holy trinity of "sex, drugs, and rock and roll". Also CDs and T-shirts. You need this stuff right now..